From your navigation menu, select Schools, you will then be presented with all of the schools for which you're a moderator. Select your school.

Across to the right hand side you will see CSV Upload, click that, and then attach your file.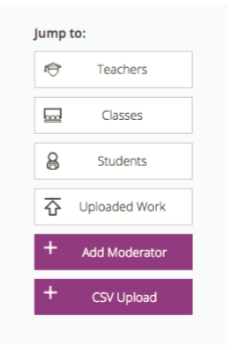 All of the information within the CSV will be reviewed and you will receive an email confirming your upload is successful. If your upload has not been successful, the email will detail errors that need attention.
Examples of CSV import
Example student CSV

Example related user CSV

Students and teachers can then log in using their username and date of birth (DD/MM/YYYY) as their password. If there has not been a date of birth uploaded, moderators will need to change the password manually.